2019 Annual Conference Recordings
Earn Contact Hours While You Learn
AONL is pleased to offer extended access to breakout session recordings from the AONE 2019 conference in San Diego. That's more than 50 hours of education at your fingertips in one convenient package, accessible through December 2020.
Register for 2019 Conference Recordings
Note: Your log-in for accessing the conference recordings is separate from your AONL.org log-in. You may be prompted to create a new account. Confirmation and certificate emails will be sent to from info@playbacknow.com; adding this address to your list of safe senders is recommended. Please contact aonl@aha.org for assistance.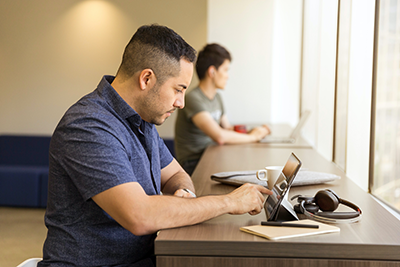 NEW | Continuing Education Contact Hours Available
Earn contact hours by listening to the session recordings and completing brief surveys.
Listen and Learn When and How You Want
Session recordings are available in convenient audio-only and video (slides synced with audio) formats and accessible using multiple devices. Load the recordings to your computer, tablet and/or mobile phone for easy access.
Attributes in Leaders Most Desired by Clinical Nurses
Engaging Leaders by Prioritizing Their Wellbeing and Resiliency
Stabilizing Teams Through Leadership, Collaboration and Staffing
Addressing Health Disparity by Advancing the Anchor Mission
Combatting the Opioid Epidemic from Within Inpatient Settings
---
Participants may earn up to 50 contact hours (60-minute contact hour). The actual number of contact hours awarded to each participant is based on sessions completed.
The American Organization for Nursing Leadership (AONL), formerly the American Organization of Nurse Executives (AONE), is accredited as a provider of continuing nursing education by the American Nurses Credentialing Center's Commission on Accreditation.
AONL is authorized to award up to 50 hours of pre-approved American College of Healthcare Executives (ACHE) Qualified Education credit (non-ACHE) for this program toward advancement or recertification in ACHE.
AONL is an approved continuing education provider for the State of California. Provider No. CEP15740.
DISCLAIMER: Opinions, materials and statements presented at AONE 2019 are not endorsed by, and do not necessarily represent, the views of the association or its members.