Resources on Novel Coronavirus (COVID-19)
The AHA and AONL are closely monitoring COVID-19 information and working with the CDC, HHS as well as other federal, state and local partners to respond to this challenge and to make sure hospitals and health systems have the most up-to-date information.
AONL Affiliates COVID-19 Resources

AONL Leader2Leader Member Community Discussions

Centers for Medicare & Medicaid Services COVID-19 Calls and Webinars
---
Office Hour Calls provide an opportunity for hospitals, health systems, and providers to ask questions of agency officials regarding CMS's temporary actions that empower local hospitals and healthcare systems. Participant Dial-in: (833) 614-0820 | Conference ID: 4688247
Join The Centers for Medicare & Medicaid Services (CMS), the Centers for Disease Control and Prevention (CDC) for a fireside chat on vaccine safety for front line health care workers. Register in advance,
Register Today
CMS COVID-19 Stakeholder Call Recordings and Transcripts
*Official White House Photo by Shealah Craighead

Nursing Leadership COVID-19 Survey
Conducted in late July 2020, this study looks at the impact of the COVID-19 pandemic on nursing leadership. Access and Learn More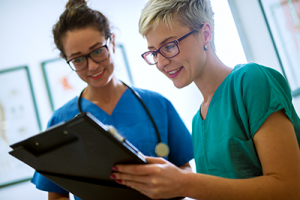 Share Your Story
We're looking for stories of compassion, understanding, overcoming obstacles and even humor. Stories can be submitted in a variety of formats, including personal narratives, video and images.