Resources on Novel Coronavirus (COVID-19)
Last Updated 3/30/2020 | Postponed & Cancelled Events have been moved to a separate webpage. Learn more.
Updated 3/26/2020 | CMS COVID-19 call with nurses at 3:00 p.m. EST, Mar. 26.
Updated 3/19/2020 | CMS COVID-19 call with nurses at 5:00 p.m. EST, Mar. 19.
Updated 3/18/2020 | Communicating on the AONL Leader2Leader discussion board.
Updated 3/17/2020 | The Nurse Manager Institute program on April 27-29 is cancelled. Learn more.
Updated 3/13/2020 | Information on future AONL events and programs.
Updated 3/6/2020 | AONL 2020 Cancellation Notice.
Updated 3/4/2020 | Added cancellation and health measures for AONL 2020 exhibitors.
Updated 3/3/2020 | CDC, WHO and AHA resources added.
The AHA and AONL are closely monitoring COVID-19 information and working with the CDC as well as other federal, state and local partners to respond to this challenge and to make sure hospitals and health systems have the most up-to-date information.
What is Coronavirus Disease (COVID-19)?
According to the CDC, there are many types of human coronaviruses including some that commonly cause mild respiratory illnesses. COVID-19 is a new disease, caused be a novel coronavirus that has not previously been seen in humans.
Information that remains under on-going investigation includes additional modes of transmission, virus severity, spread of the virus in the absence of symptoms, and the length of time a patient can spread the virus. Symptoms associated with COVID-19 include mild to severe respiratory illness with symptoms of fever, cough, and shortness of breath.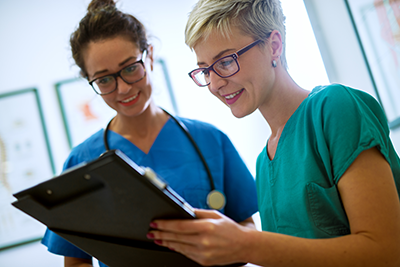 Stories from the Front Lines
Every day health care professionals across the country and around the world are doing amazing work to combat the coronavirus and care for people – physically and emotionally. Here you'll find their heartwarming stories. It's our opportunity to honor, celebrate and thank them for rising up and never giving up to end this pandemic.
COVID-19 Events & Calls for Nurse Leaders
The Centers for Medicare and Medicaid Services (CMS) will host a call for hospital and health system leaders on COVID-19 developments: increasing hospital capacity, expanding the health care workforce and promoting telehealth in Medicare. Participant Dial-In: (877) 251-0301 | Conference ID: 8527456
CENTERS FOR MEDICARE AND MEDICAID SERVICES COVID-19 Call with Nurses Apr. 2 | 3:00 p.m. ET
The Centers for Medicare and Medicaid Services (CMS) will host a COVID-19 call with nurses Thursday, April 2, at 3:00 p.m. ET. CMS leadership will provide updates on the agency's latest guidance. There will be audience Q and A and an opportunity to share best practices with peers.
*Official White House Photo by Shealah Craighead