Resources on Novel Coronavirus (COVID-19)
The AHA and AONL are closely monitoring COVID-19 information and working with the CDC as well as other federal, state and local partners to respond to this challenge and to make sure hospitals and health systems have the most up-to-date information.

Contact AONL
if your organization as developed publicly available resources that you would like to share with nurse leaders.
Clinical Workflow and Policy Resources
Well-being Resources Addressing Resilience
COVID-19 Webinars & Education
---
AONL is pleased to offer nursing students access to AONL's library of on-demand webinars free of charge through Aug. 31 using the discount code STUDENT at checkout. Note that faculty pre-approval may be required for academic program eligibility. Learn more.
*Official White House Photo by Shealah Craighead
Centers for Medicare & Medicaid Services COVID-19 Stakeholder Calls
---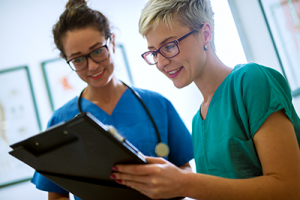 Share Your Story
We're looking for stories of compassion, understanding, overcoming obstacles and even humor. Stories can be submitted in a variety of formats, including personal narratives, video and images.