Share your reflections on the COVID-19 pandemic
Share Your Story
We are gathering personal accounts and reflections of the COVID-19 pandemic from nurse leaders.
Do you have a story that could help support why policymakers need to address the nursing shortage, burnout, clinician well-being or another issue that is important to you. Please record a video or write your story below. AONL will share your stories but will not list your full name nor your organization's name.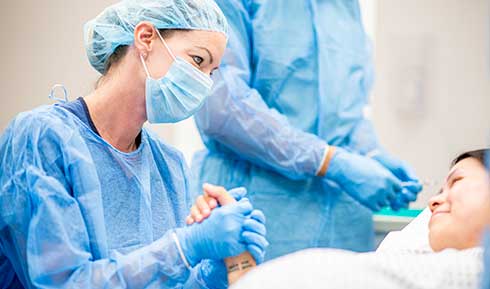 *For consideration, the receipt and adequacy of which I acknowledge, I grant to the American Hospital Association, its affiliates, subsidiaries, officers, directors, shareholders, and their respective licensees, successors, assigns, legal representatives, agents and heirs (collectively, "AHA"), the transferable, irrevocable, sublicensable, perpetual, nonexclusive and worldwide right to use my image, name, photograph, voice, persona, likeness or other personal identifying characteristics in all forms of media now known or hereafter developed (collectively, my "Image") in connection with National Nurses Week and for such other purposes as AHA deems appropriate. I waive the right to inspect or approve any materials incorporating my Image, as well as my right to royalties or other compensation for the use of same. I also waive any claim to any intangible rights, including (but not limited to) the right of publicity or copyright, in connection with any tangible medium of expression incorporating my Image created and/or used by AHA. In addition, I release and hold harmless AHA from any claims and/or liabilities arising out of or in connection with AHA's use of my Image. I represent that I am at least eighteen (18) years of age.