The Prism Award recognizes an organization who is a leader in advancing diversity and inclusion efforts within the nursing profession, health care organization or community. AONL recognizes diversity as the ability to hold multiple perspectives without judgement based on age, spirituality, cognitive/physical ability, gender, race/ethnicity, sexual orientation and socioeconomic status. This perspective supports and advances AONL Guiding Principles for Diversity, Equity, Inclusion and Belonging.
AONL developed the AONL Guiding Principles for Diversity, Equity, Inclusion and Belonging to guide nurse leaders in advocating for resources to implement and support a diversity and inclusion program, encouraging a commitment to education and leading diversity research initiatives based on performance improvement outcomes.
The Prism Award winning-organization will receive a $5,000 donation to support its diversity and inclusion initiative.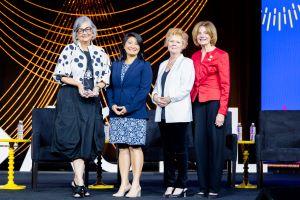 Eligibility Criteria
An organization nomination must be submitted by a current AONL member.
Current members of the AONL Board of Directors and AONL staff are not eligible.
The Prism Award is sponsored by the American Nurses Credentialing Center (ANCC).
Nomination Process
Any AONL member may nominate an organization for the award by submitting a form including the following attachments:
Description summarizing the nominee's qualifications with respect to the award criteria listed in the application.
1000 word maximum
Letter of recommendation demonstrating the nominee's qualifications.
E.g. a letter from CEO, supervisor, mentee, etc.
Supporting materials demonstrating nominee's work.
Supporting materials include an overview of a program, additional letters of recommendation, articles, etc.
AONL staff or Award committee members may not submit a nomination.
Selection Process
The Awards committee will select the Prism award winner using a Likert scale and the below submission criteria (D1 – 4; C1 – 7):
AONL Guiding Principles for Diversity, Equity, Inclusion and Belonging
Diversity, equity, inclusion and belonging are the cornerstones of human wellness.
Health care organizations will aim to establish a healthful practice/work environment that is reflective of diversity within levels, including front-line, leadership and governance teams through a commitment to inclusivity, acceptance and appropriate governance structures. 
Creating practice environments of psychological safety with diverse teams ensures equitable, safe and effective patient-centered care.
Health care organizations will strive to develop internal and external resources that support patient-centered care and meet the needs of the diverse patient and workforce populations served. 
Partnerships play a pivotal role in advancing vision.
Healthcare organizations will partner with universities, schools of nursing and other organizations that educate nurses and leaders to support development and implementation of policies, procedures, programs, and learning environment that foster cultural intelligence and recruitment and retention of a student population that reflects the diversity of the communities it serves. 
Leveraging data, technology, and research will assist in achieving the desired goal.
In partnership with statisticians and health policy experts, health care organizations will leverage technology to collect and disseminate diversity-related resources, research and information to improve patient care and track employee wellness. 
AONL Nurse Executive Competencies
Maintains a work environment that recognizes and values differences in staff, physicians, patients and communities.
Indicators exist for cultural competency and the individual monitors progress to goals.
Utilizes population data to identify cultural clusters and the application of culturally-based care.
Policies and processes are in place which incorporates cultural beliefs into care.
Serves as lead person (champion) in the dissemination of cultural competency and diversity principles.
Process exists for the application of evidence-based practice and incorporation of best practices related to diversity in patient care.
Employment recruitment plans and strategies are in place to attract a workforce that is reflective of the populations served.
Dates and Deadlines for AONL & AONL Foundation Awards
SUBMISSION DEADLINE October 9, 2023
NOMINEES NOTIFIED January 2024
AWARD RECOGNITION April 8-11, 2024