Voice of the President | July 2022
It's hard to believe that summer is upon us and we are already halfway through 2022! During this busy and exciting time of year, we welcome a significant number of new graduates into our profession. Many of us are trying to identify ways to harness their enthusiasm and energy, which is palpable during these first few months. Today, more than ever, leaders are focusing on implementing strategies to assist and support the new graduate nurses' transition into practice and incorporate them in their team's culture. We hope these actions will help them have a successful careers as professional nurses.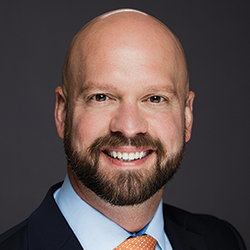 Erik Martin, 2022 president, AONL Board of Directors
Over the past couple of years, many nursing students' academic programs were disrupted because of the pandemic. Keeping safety as the North Star, hospitals and academic leaders alike were forced to reimagine the student's clinical experiences. With no time to spare, it felt as if we were building the plane while flying it. The impact of these rapid changes has been significant as we've seen lower NCLEX pass rates, longer orientations and higher numbers of new nurses leaving the profession in their first few years.
For more than a decade, AONL has identified the importance of academic and practice leaders working hand in hand. In fact, a longstanding committee has been exploring strategies, showcasing best practices and highlighting the positive outcomes accomplished when strong academic and practice collaborations exist. Many of the obstacles we've faced through COVID-19 were conquered through such partnerships.
With our new graduate nurses' recent challenges in mind, along with the American Association of Colleges of Nursing's release of a revised Essentials document and a revised position statement on the research-focused doctoral program in nursing, the AONL Publications Committee changed the planned theme of this month's Voice of Nursing Leadership. The result is a set of timely, relevant and informative articles on academic-practice issues.
Here at my organization, Norton Healthcare, Louisville, Ky., there is a focus on readiness for licensed practice through student nurse employment. Since 2017, we've had a very effective Student Nurse Apprenticeship Program (SNAP) in place. SNAP is a 12- to 18-month paid employment opportunity providing educational and clinical experiences to complement a student nurse's academic program. It began as one of our nurse leader's doctoral work and received endorsement by the state of Kentucky. As the program evolved, it became the first registered pre-licensure nursing apprenticeship program in Kentucky.
The program consists of three tiers and intentionally invests in the student through incorporating organizational and professional culture, providing nursing clinical experiences and promoting nursing confidence. SNAP requires an application and an interview by a nurse leader on the SNAP team. Students who are offered and accept a student nurse position understand the goal of the program is to help them grow and learn the profession of nursing in an acute care setting.
Each tier is designed to complement or meet the student where they are at in their academic journey. Tier I begins in January of each year and offers courses, training and experiential learning across all service lines. Tier II occurs during the summer and is an opportunity for further clinical immersion whereby the student functions in a full-time nurse extern capacity side by side with a nurse preceptor. During this time, student nurses focus on nursing skills, patient safety, time management, electronic documentation and management of multiple patients. Tier III offers a hybrid of continued clinical experiences, nursing education and transition-to-practice support. SNAP concludes in the fall, or the following spring, when attention is paid to building and instilling confidence until academic graduation and transition to a licensed nurse position on our team.
In addition to the program structure, SNAP also supports organizational needs. Student nurses are eligible to work additional time as their studies permit. This was ever present during the heart of the pandemic. Through fulfilling various on-site roles, the SNAP participants supported over 16,300 hours of COVID-19 needs. These hours were in excess of the formal program requirements and were a true asset in supporting hospital operations. The role of the student nurse is valuable, as their skill set and knowledge can be leveraged as they progress in their formal studies.
Since SNAP's inception, the program has grown to include 22 nursing schools represented by nearly 700 total student participants. Nine out of 10 SNAP graduates become full-time nurses with Norton Healthcare. One-year nurse retention for SNAP graduates is 94%. Furthermore, 85% remain employed with Norton Healthcare at their two-year anniversary. As a result of SNAP's higher retention rates, we have achieved an estimated $28 million dollars in cost savings over five years. Additionally, SNAP graduates have statistically significant, self-reported higher rates in perceived self-confidence related to patient safety when compared to other new graduate nurses who did not complete SNAP. The program is such an incredible success that we've expanded the concept to other disciplines including surgical technicians, respiratory therapists and medical assistants. For more information on SNAP you can visit NortonHealthcare.com/SNAP or connect with the team directly at SNAP@nortonhealthcare.org.
As health care change accelerates, the necessity for strong, agile partnerships between academic and practice nursing leaders will only increase.
As health care change accelerates, the necessity for strong, agile partnerships between academic and practice nursing leaders will only increase. Just as we saw the creative ways nursing programs and hospital care delivery persisted during the pandemic, future challenges will foster new ways of cooperating to educate and train nurses in creating the best outcomes for patients.