Johnson & Johnson Nurses Innovate QuickFire Challenge
Calling for Nurse Innovators
As innovators on the frontlines of health care, nurses have the power to profoundly change lives. An estimated 20 million nurses and midwives around the world — the equivalent of more than 50% of the healthcare workforce — are the backbone of health systems worldwide.
The power of nurse-led innovation and knowledge is more critical than ever when developing potential solutions amid a continuing global pandemic. With extensive patient experience, nurses' ideas have the potential to profoundly improve human health amid the current pandemic environment and beyond.
We are proud to partner with Johnson & Johnson and the American Nursing Informatics Association (ANIA) for the Johnson & Johnson Nurses Innovate QuickFire Challenge: Healthcare Transformation through Nurse-led Tech. As part of our mission to shape health care through innovative and expert nursing leadership, the QuickFire Challenge will nurture early-stage ideas by celebrating, supporting and mentoring the nurse innovators behind them.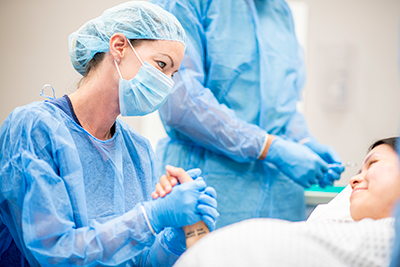 Access to Grant Funding & Mentoring
The nurse innovators with the best idea(s) will receive up to $100,000 in grant funding and access to mentoring from experts across the Johnson & Johnson Family of Companies to help bring their ideas to life.
Ideal Applicants
We are looking for nurses and nursing students around the world to bring their technology-based potential solutions that can help drive healthcare transformation. For example, tech that aims to:
improve patient care and outcomes in any disease state or care setting.
create efficiencies for nurses, leading to more high touch, high value interactions with patients, and extending their reach.
up-skill nurses and student nurse education to improve patient care delivery and outcomes in varied care settings, including remote care.
support data driven decisions and/or integrates social determinants of health (SDOH) data to help address health inequities and reach underserved patient communities.
improves patient and nursing support by expanding nursing workforce opportunities.
Awards
Grant funding up to $100,000
Mentoring from experts within the Johnson & Johnson Family of Companies
Access to the Johnson & Johnson Innovation - JLABS ecosystem
Promotion of this opportunity does not constitute an endorsement or an approval by AONL of any of the products, services or opinions of Johnson & Johnson Innovation, JLABS, affiliated organizations or individuals participating. AONL bears no responsibility for the selection, award, accuracy, legality or content resulting from the opportunity. Please contact Johnson & Johnson Innovation, JLABS for answers to questions regarding the opportunity.
Powered by

In partnership with