Virtual Conference Breakout Sessions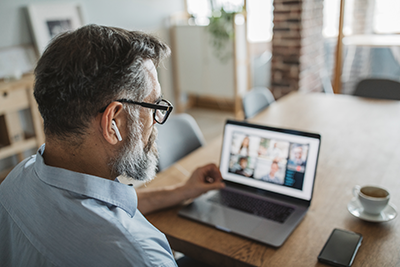 Experience engaging thought leadership
Leading practices in interprofessional collaboration, employee engagement and transformational leadership are more essential than ever before. Gain valuable insights from the comfort of your home or office with more than 30 high-impact, 45-minute breakout sessions to choose from. Take advantage of this dynamic learning environment, including engaging video presentations with live speaker Q&A and participant chats.
More than 25 credit hours available! With extended virtual access, you can catch what you missed and replay your favorites on demand through November 1.
The AONL 2020 Virtual Conference will be held in Central Time (CT). (Schedule is subject to change.)
*Additional breakout sessions will be will be announced soon.
Search and Filter Breakout Sessions
A Nursing Thought Leadership Conversation with Joanne Disch and Mary Beth Kingston
Tap into the knowledge and insights of two top thought leaders as they discuss their experiences in leading large national organizations. Join this conversation and walk away with ideas and perspective from these influential nurse leaders.
Presenters
Joanne Disch, Board Chair, Advocate Aurora Health Care
Mary Beth Kingston, Executive Vice President and Chief Nursing Officer, Advocate Aurora Health Milwaukee
---
Ambulatory's Road to Shared Governance and Nurse Engagement
Transformation in health care delivery is occurring at a rapid pace. Ambulatory nurses are poised to provide seamless, evidence-based, quality care to improve patient outcomes. In these challenging times, it is imperative that nurse leaders invest in those closest to patients navigating the care continuum. Providing a forum for ambulatory nurses to have a voice in their practice with professional development, empowerment and retention is a step to bridging the gap.
Presenters
Amanda Adkins, Ambulatory Nurse Manager, IU Health
Missy Hockaday, Vice President and Chief Nursing Officer, IU Health
---
Developing Nurse Leaders' Moral Muscle Through Ethics Self-Assessment
There are limited methods of ethics education for nurse leaders' continued moral development. The Ethical Lens Inventory—piloted with 30 nurse leaders at a large, urban academic medical center— bridges the gap. It equips nurse leaders with the awareness, skills and support necessary to discuss and act on ethics concerns with their staff and the broader medical community.
Presenters
Stuart D. Downs, Chief Operating Officer, Wellstar Atlanta Medical Center and Atlanta Medical Center – South
Jason Lesandrini, Assistant Vice President of Ethics, ACP and Spiritual Health, WellStar Health System
Avery Glover, MD/MBA Candidate, Tufts University School of Medicine/ Brandeis University Heller
---
Employee Engagement Transformation: Tested Tactics For Sustaining Change
Engagement at work is an essential element in reducing burnout and creating resilience. Attendees will learn how to create a strategy for engagement, and how to implement sustainable tactics that lead to reduced turnover and better patient outcomes while restoring joy to the workplace.
Presenters
Claire Zangerle, Chief Nurse Executive, Allegheny Health Network
Vicki Hess, Principal, Employee Engagement Solutions, LLC
---
Engaging the Interprofessional Team to Address Capacity Constraints
In March 2018, Northwestern Medicine Lake Forest Hospital moved to a new replacement hospital and experienced a sustained 20% year-over-year increase in patient volume in all areas, with no increase in bed capacity. A successful partnership between hospital leaders and front-line staff identified and evaluated issues and causes, and implemented a program that improved patient flow. The results include enhanced patient safety and elevated patient and staff satisfaction.
Presenters
Karen Mahnke, Associate Chief Nursing Executive, Northwestern Medicine Lake Forest Hospital
Denise Majeski, VP of Operations/CNE/CNO, Northwestern Medicine Lake Forest Hospital
---
Innovative Executive Succession Planning And Professional Development Strategy
By creating a nursing leadership academy (NLA), one health care system methodically and strategically prepared nurse leaders for advanced health care leadership roles to ensure tactical and effective succession planning strategies. The NLA was developed based on AONL Nurse Executive Competencies and included a four-day, didactic nursing leadership seminar, with intensive lectures, and participatory and experiential learning. The AONL Nurse Executive Competency Assessment provided the means to assess participants' change in knowledge and competency level.
Presenters
Christina Martin, Director, Nursing Practice and Professional Development, WellSpan Health
Kristen O'Shea, Vice President and Chief Nursing Executive, WellSpan Health
---
Knocking Out Pneumonia: The New #1 Hospital-Acquired Infection Epidemic
Attendees will hear an introduction to this rarely discussed hospital-acquired infection. Explore the causes and prevention of this very common patient harm, and discover why it is an important issue for nursing today. Attendees will leave this session with concrete ideas on how to measure, monitor and prevent non-ventilator hospital-acquired pneumonia in their unit, hospital or health care system.
Presenters
Barbara Quinn, Director, Professional Nursing Practice, Sutter Medical Center
Dian Baker, Professor, California State University, School of Nursing
---
Leading Disruptive Change: Transforming Your Onboarding Experience
Learn about an innovative onboarding program designed to welcome clinical nurses with a state-of-the-art, individualized experience that integrates technology and reinforces professional development within the organization's culture. The program supports each nurse on their career trajectory and sets them up for success. Hear how nurse leaders facilitated a cultural shift and changes to an entire health care system's onboarding practices by challenging the status quo and utilizing disruptive innovation.
Presenters
Rachel Kelter, Manager of Nursing Education, Indiana University Health Indianapolis Suburban Region
Mandy Dees, Manager Nursing Education, Indiana University Health University Hospital
Kim Hodges, Regional Director of Nursing Professional Development, Indiana University Health
---
Listening Leadership: Excellence in Pressure Injury Outcomes-Analytics
In this session, the CNO of an academic medical center discusses the importance of leadership listening and the significance of timely, accurate pressure injury data to improving care for the hospitalized patient. A redesigned workflow and the implementation of innovative technology solutions resulted in available, accurate and actionable pressure injury data, permitting organizational leaders to make real-time improvement in patient care and yielding a 37% decrease in reported hospital-acquired pressure injuries.
Presenters
Terri Poe, Chief Nursing Officer, University of Alabama at Birmingham Hospital
Shea Polancich, Assistant Dean/ Administrative Director, University of Alabama at Birmingham Hospital/School of Nursing
---
Reducing Employee Workplace Violence: Cno Collaborative Partnership
Have you wondered why and how an academic practice partnership is formed? During this presentation, learn about the journey of establishing a formalized academic practice partnership from the perspective of both the academic institution and the health care system. Hear about lessons learned during this process, and the numerous positive outcomes that directly resulted from this collaborative relationship.
Presenters
Melanie Heuston, Chief Nursing Office, Meritus Medical Center
Carol Grove, Administrative Women's and Children's Service Line Leader, Meritus Medical Center
Sarah Harne-Britner, Director of Professional Practice, Mertius Medical Center
---
Transforming Health Care Through Academic-Practice Partnerships
Have you wondered why and how an academic practice partnership is formed? During this presentation, learn about the journey of establishing a formalized academic practice partnership from the perspective of both the academic institution and the health care system. Hear about lessons learned during this process, and the numerous positive outcomes that directly resulted from this collaborative relationship.
Presenters
Christine Boev, Undergraduate Nursing Chair and Associate Professor, St. John Fisher College
Valerie Grapensteter, Director of System Clinical Practice, Rochester Regional Health
Deborah Stamps, System Vice President Quality, Safety and Innovation, Rochester Regional Health
---
BS in 10: One State to All Fifty
Educational advancement is a personal decision for each practicing nurse. It has workforce and succession planning implications for nurse leaders in all practice settings, and is fundamental to curriculum development and relevance. The health of our communities will improve only when education is advanced in every area where nurses practice. Each attendee receives materials to inform their journey toward creating a more highly educated nursing workforce in their state.
Presenters
Dianne Cooney-Miner, Founding Dean, Wegmans School of Nursing, St. John Fisher College
Claire Murray, Executive Director Emeritus, New York Organization of Nurse Executives and Leaders
---
Changing Health Care's Trajectory Through Nurse-Led Complex Care Management
This presentation describes the development, implementation, continued improvement, outcomes and research opportunities in a nurse-led Medicaid accountable care organization complex care management (CCM) program. Health care leaders are investing in CCM to slow rising health care costs and improve care. Nurses must be prepared to assume leadership and direct care roles in CCM. This session provides insights into CCM critical success factors, lessons learned and evaluative methods essential for nurse leaders.
Presenters
Joanne Hogan, Associate Chief Nurse, Ambulatory Division, South Shore Health System
Nancy Gaden, Senior Vice President; Chief Nursing Officer, Boston Medical Center
---
Highly Reliable Leaders Listen
Join us for a challenging, thought-provoking and interactive session where attendees learn the value of listening and relationship-based communication for creating highly reliable cultures. Concepts will be linked through a brief overview of recent research detailing what patients consider caregiver listening, and what leaders can do to model these behaviors through caring for the caregivers, and by building relationships and listening.
Presenters
Amy Trueblood, Director of Nursing, Professional Practice, University of Missouri Health Care
Nancy Loos, Quality and Patient Safety Program Manager, Dignity Health – Northridge Hospital Medical Center, Lecturer, California State University, Fullerton
---
Implementing A Workplace Violence Prevention And Response Program
Workplace violence (WPV) has become a serious national problem in health care, furthered by the opioid crisis and the lack of resources for patients with a behavioral health diagnosis. While there is an increased focus on this topic in the literature and the media, WPV events are vastly underreported. Learn how to implement strategies that have resulted in a dramatic increase in timely event-reporting and violence response team activation.
Presenter
Ann Szapor, Vice President, Chief Nursing Officer, Memorial Hermann Greater Heights Hospital
---
Improving The Nicu Practice Environment Using Appreciative Inquiry
Learn how one interprofessional team was able to use the American Association of Critical Care Nurses' six pillars of a healthy work environment, along with the principles of appreciative inquiry, to better understand practice and system issues that factored significantly into reduced staff satisfaction scores. Hear how they subsequently developed an action plan that improved patient care and team morale.
Presenters
Tara Matz, Director of Patient Care Services, Cohen Children's Medical Center
Nikki Weber, Pediatric Service Line & Hospital Administration, Cohen Children's Medical Center
Phyllis Quinlan, Program Manager for Clinical Transformation/ Internal Coach, Cohen Children's Medical Center
---
Investing In Retention: An Innovative Program Retaining RNs
Using best practices, organizational data and ideas from front-line clinicians, an academic medical center created a multifaceted approach to improving RN retention, enhancing the practice environment, promoting engagement and retaining expertise at the point of care. Additionally, they developed a multi-level strategy to support and retain ADNs working toward their BSN degree. This aligns with the Institute of Medicine's recommendation of an 80% BSN workforce by 2020 to improve quality outcomes and promote lifelong learning.
Presenters
Mary Dixon, Chief Nursing Officer, University of Virginia Health System
Luella Glanzer, RN Retention Program Coordinator, University of Virginia Health System
---
Mind Mapping: Catapulting Leader Engagement And Fast-Tracking Improvements
Retention starts with a conversation. Mind mapping is a deliberate conversation with nurses about what matters, using the results to identify improvements. Mind mapping conversations shape professional nursing practice environments by empowering nurses to speak up about the safety and effectiveness of patient care. Mind mapping conversations also link nurses' perceptions about quality to improved outcomes and satisfaction, build a culture of trust and respect and produce significant patient care and organizational rewards.
Presenter
Jill Fargo, Transitional Nurse Leader/Independent Contractor
---
Post-Doc To Prepare Nurses In Implementation Science
Doctorate of Nursing Practice-prepared (DNP) nursing leaders must have a sophisticated data analytics skill set, including knowledge in collecting, interpreting and reporting data to improve care. For DNP-prepared nurses to lead teams to implement and evaluate system-level interventions, however, an additional period of mentoring and a deeper understanding of implementation science and analytical skills is required. Learn about a collaborative postdoctoral DNP Quality Implementation Scholars program launched by a large university and health system.
Presenters
Marion Broome, Dean, Duke University School of Nursing
Mary Ann Fuchs, Vice President Patient Care and System Chief Nurse Executive, Duke University Health System
Staci Reynolds, Assistant Professor and Clinical Nurse Specialist, Duke University School of Nursing and Duke University Hospital
---
Trauma-Informed Care For Patient And Nurse Resilience
Health care workers create a trusting and healing environment for patients while sometimes losing focus of their own health. Hear how one hospital uniquely enhanced patient care and the well-being of employees through the use of trauma-informed care. Attendees will learn how trauma-informed care can be transformational in a hospital setting, and how the trauma-informed framework was developed and implemented.
Presenter
Laura Magstadt, Vice President, Nursing, Asante Three Rivers Medical Center
---
Working Through Disaster: Lessons Learned From Two California Wildfire Hospital Evacuations
Sutter Santa Rosa Regional Hospital, an acute care hospital in northern California, successfully evacuated 87 patients in October 2019 during the Kincade wildfire, and 137 patients and evacuees during the 2017 Tubbs wildfire. These disasters prompted emergency preparedness program improvements for continued readiness. Hear from hospital incident command regarding lessons learned while safely evacuating and repopulating the hospital twice in two years.
Presenters
Eileen Robertson, Director of Nursing, Sutter Santa Rosa Regional Hospital
Wendy Colgan, Chief Nurse Executive, Sutter Santa Rosa Regional Hospital
Ali Meyers, Director of Education, Sutter Santa Rosa Regional Hospital
---
App Support: Not Just Dollars, but Sense
The role of the Advanced Practice Provider (APP) is rapidly expanding in health care, but support for this responsibility is not keeping pace. Enter a new position—Director of APPs—that understands scope of practice, revenue models, compliance, engagement and retention. This presentation chronicles the implementation of innovative success strategies supporting APPs across a large academic health system. The strategies have led to increased efficiencies in practice and engagement.
Presenter
Bonnie Proulx, Director of Advanced Practice Providers, Emory Healthcare
---
Changing Paradigms: What Today's Nursing Workforce Wants
With more than 27,000 respondents, the 2019 AMN Nursing survey details RN experiences relative to job and career satisfaction, educational aspirations, workplace violence, work habits (such as holding more than one job), specifics about cross-generational communication and relationships between leaders and their team members. The results show a paradigm shift in several areas that influence the care environment and suggest a need for leaders to think differently about the nursing workforce.
Presenter
Cole Edmonson, Chief Clinical Officer, AMN Healthcare, Inc.
---
Journey to Zero Suicide
The loss of six patients in seven months to suicide inspired Aurora Medical Center (AMC) to 'find a better way' to deliver safe care. The journey prompted expansion of best practices across one of the largest health care systems in the U.S. Pairing high reliability with zero harm, AMC committed to universal screening, implementing care transitions and delivering evidence-based health care. Learn strategies to engage leadership, support transformation and implement suicide-specific interventions. Resources provided to attendees.
Presenters
Lori Knitt, Chief Nurse Officer, Aurora Sheboygan Memorial Medical Center
Laura Reinemann, Patient Care Manager, Aurora Sheboygan Memorial Medical Center
Rebecca Babcock, Performance Advisory Consultant, Advocate Aurora Health
---
Leveraging Leadership and Collaboration to Achieve Stable Staffing
This session discusses a large academic medical center's journey in redefining recruitment and hiring, the training of new nurses and the collaboration required to stabilize the workforce and improve staff retention. Using strategic management principles, leaders reallocated resources to optimize staffing patterns across the heart center service line. Explore how this strategy—with its successes and lessons learned—can be applied to your setting.
Presenters
Kelly Kester, Clinical Operations Director, Duke University Hospital
Mary Lindsay, Associate Chief Nursing Officer, Duke University Hospital
---
Nursing and the 800-Pound Gorilla: The Medicare Relationship
This session provides nurse leaders with a description of Medicare's value and outcomes-based hospital reimbursement models, and action recommendations for those who must respond both in how care is delivered and at the leadership table in assuring hospital financial sustainability. Included are descriptions of nurse manager training conducted in community-based and large medical centers, and guidelines for nurse leaders in positioning nursing as a critical success factor in managing these payment models.
Presenters
Judith Kunisch, Former Director, Doctor of Nursing Practice Program, Yale School of Nursing
Iain Holmes, Associate Chief Nurse, Albany Stratton VA Medical Center
---
Project Joy: Giving Back Time to Nurses for Patient Care
Documentation burden is a barrier to the aims of improving health, patient experience, efficiency and clinician well-being. Last year, a 12-hospital system eliminated 170 million clicks and returned 18 minutes per shift to the bedside, doubling satisfaction with flowsheets. Executive leadership is essential, requiring complex organizational negotiation among competing needs in the context of the myth: "Not documented, not done." Presenters detail their leadership tactics and share hard-won lessons learned.
Presenter
Katherine Howell, Chief Nurse Executive, UCHealth; Bonnie Adrian, Research Scientist, RN, UCHealth
---
Street Nurse Program Delivering Care to Meet Patient Needs
Hospitals in the U.S. are challenged with managing the homeless patient population in their emergency departments, as well as among their inpatient population. There are gaps in providing basic care to this vulnerable population. This initiative, in collaboration with a local federal-qualified health center, has become one system's approach to managing the population's needs where they are—in the homeless neighborhoods and camps.
Presenter
Anna Kiger, System Chief Nurse Officer, Sutter Health
---
The Positive Impact of Authentic Transformational Nurse Managers
This session provides attendees with tangible tools and data that demonstrate the positive impact of transformational nurse managers. Learn about innovative approaches to creating a culture that promotes staff involvement, nurse retention and advancement of front-line nurses, with transparency regarding the successes and missteps along the way.
Presenters
Nancy Kraus, Executive Director Critical Care, Clinical Education, Magnet® Program, CHOC Children's Hospital
Alisa Brown, Manager Pediatric Intensive Care Unit, CHOC Children's Hospital
Tammy Fowler, Manager Cardiovascular Intensive Care Unit, CHOC Children's Hospital
---
When the Customer is Not Always Right
Behavioral disruption in the health care environment is increasing in frequency and severity. In this presentation, a large community hospital shares its approach to managing disruptive patients and visitors, and how solutions were identified, developed and implemented to improve staff safety. These interventions resulted in a reduction in staff assaults, a decrease in escalations to security and projected improvements in engagement.
Presenters
Janet Davis, Vice President, Operations, Northwestern Medicine Central DuPage Hospital
Jeanette Karon, Performance Improvement Leader, Northwestern Medicine
---