Conference Group Registration
Register with your Team
Save on AONL 2021 Virtual Conference registration when you attend with your team.
Group discounts are available for organizations that register 10 or more people at the same time. Discounts cannot be issued retroactively.
Groups of 10–20 individuals save 10%, and groups of 20+ save 15%.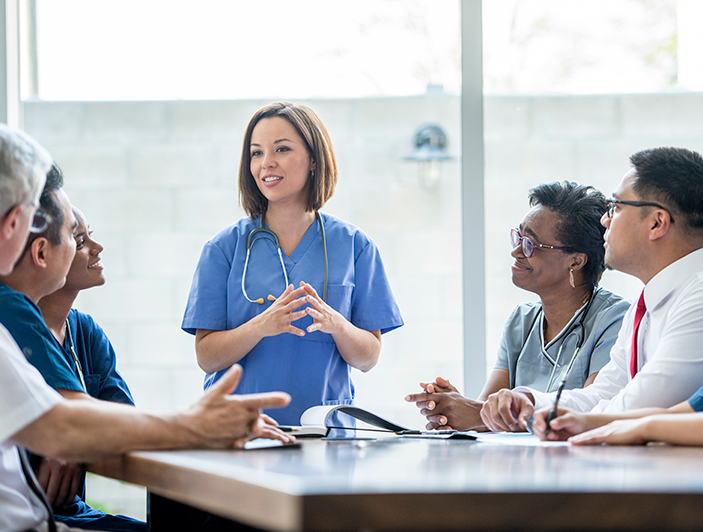 Discount Guidelines
REGISTER 10+ INDIVIDUALS FROM THE SAME FACILITY
Discounts are available for organizations that simultaneously register 10 or more individuals from the same facility.
REGISTRANTS MUST WORK AT THE SAME LOCATION
Group discounts do not apply toward individuals within the same system who are not at the same location.
GROUP REGISTRATIONS MUST BE PAID ON A SINGLE CREDIT CARD OR CHECK PURCHASE
Individual payments will not be accepted. Please contact registration customer support at (877) 761-2496 once everyone has been registered to pay by credit card.
GROUP DISCOUNTS CANNOT BE COMBINED WITH OTHER DISCOUNT OFFERS
(i.e. speaker discounts)
Contact to Complete Group Registration
If the group meets the discount guidelines, you must send an email to aonlannualconference@aha.org to request the group discount code and include the following information:
Primary contact for the organization (including business address, phone and email)
Number of people in the group
Organization name and address
Once the information is reviewed, the registration link and group discount code will be sent to the main contact within two business days. We recommend that the main contact distribute the link and code to allow the individual group members to register themselves. Everyone will need their own individual AHA/AONL account information to register. NOTE: If you're registering multiple people, you will need to login/create individual accounts for each person.
Remember: Please do not register the group without the AONL discount code. Refunds will not be processed after registrations have been made.
NOTICE
Attendees that misuse the group discount policy will be charged the difference in fees plus a $50 administrative fee. Please direct any questions on the policy to aonlannualconference@aha.org.