The AONL Foundation Nurse Researcher Award recognizes an individual who has made a significant contribution to nursing and health systems research. Explore the criteria and eligibility requirements for the AONL Foundation Nurse Researcher of the Year Award recipient. See previous award recipients.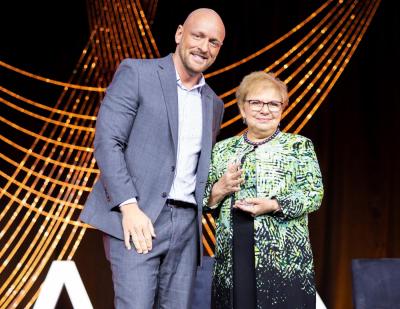 Eligibility
AONL membership is not required. Sitting members of either the AONL Foundation Board or the AONL Board are ineligible.
Application Process
Anyone can nominate a candidate for the AONL Foundation Nurse Researcher of the Year award. Self-nomination is permissible. Please see below for nomination requirements and details. Nomination packages are reviewed and scored by members of the AONL Foundation's research committee. A nominee may be requested to participate in an interview with AONL Foundation representatives as part of the application process. These interviews will be conducted via Teams or Zoom at a date/time mutually agreed to.
Please reach out to Erica Cheng, AONL Foundation program specialist, or Dani Ward, AONL Foundation director, with any questions.
Nominee's curriculum vita or resume
Brief biography (300 words maximum)
Listing of key papers or other publications related to nominee's research work
Highlight internal and external financial support of nominee's work
Recognized in the nursing community as an outstanding nurse researcher
First preference will be given to researchers who have focused on AONL Foundation and AONL priorities
Narrative
Nominator should provide a brief narrative of how this nominee's work has impacted the field and the nominator.
Letters of recommendation
Letter(s) of recommendation (no more than 3) from peer researchers with knowledge of the nominee's contributions to quality of research and scholarly activities
Superior performance in the areas of research scholarship
Number of research or data articles published in the last two years
Quality of publications (index score) for articles published
Number of citations body of work has received
Evidence of other contributions to the field based on their scholarly work
Examples may include:
Active participation in interviews/ expert panels
Student mentorship/advisement based on nominees scholarship
Service on local, regional or national boards related to their research and scholarly activities
Evidence of the impact the nominee's research has had on the field
Nominator should provide qualitative and quantitative evidence, if known.
Examples include:
Schools of nursing incorporating work into the curriculum
Organizations incorporating a tool into their patient care processes resulting in a measurable difference/improvement
Dates and Deadlines for AONL & AONL Foundation Awards
SUBMISSION DEADLINE October 9, 2023
NOMINEE INTERVIEWS January 2024
NOMINEES NOTIFIED January 2024
AWARD PRESENTATION April 8-11, 2024