From High School to RN: An Innovative Approach to Creating a Diverse Workforce
As the health care field continues to face a nursing shortage, nurse leaders need to be intentional in developing innovative strategies to meet workforce needs. These strategies should be aimed at attracting, recruiting and retaining nurses. This requires RN pipeline development to target, enroll and support the future workforce, including minority students, to increase their representation in nursing (Katz et al., 2016). Health care organizations must develop an infrastructure that supports diversity, inclusion and equity within the nursing workforce pipeline.
To fulfill that mission, Wellstar Health System, headquartered in Marietta, Ga., has created a program designed to support students' career paths in nursing at the health care system, geared to appeal to a broad and diverse group of students. The Wellstar Nursing Careers Pathway program begins with high school students and helps address the statewide need for certified nursing assistants (CNAs), licensed practical nurses (LPNs), associate-degree RNs, and baccalaureate-prepared RNs. The participating high schools started with the first full year of students in the fall of 2020. This model provides guaranteed clinical placements, an interview with credential milestones (CNA/LPN/RN) and an infrastructure for experiential learning opportunities at its facilities.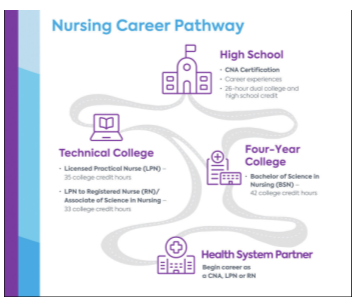 Program overview
The program offers an opportunity for rising ninth-grade students interested in nursing careers to dual enroll in college-level nursing courses at a local technical college while attending high school. Students complete 26 hours towards nursing prerequisites for dual college and high school credit while earning the nurse aide certification upon graduation. Once students complete their high school education, the college-level courses will count toward their nursing degree. "Our partnership with Wellstar allows the student to experience something they might not experience till they become a nurse," says Jason Meade, associate principal at Marietta High School. "We're putting them in places where they work with nurses, where they work with doctors, where they are in the environment they will work in."
The Wellstar Nursing Career Pathway is an ongoing partnership between the lieutenant governor's office, WellStar Health System, the Technical College System of Georgia, the University System of Georgia and the Georgia Department of Education. Other partners are Cobb, Paulding and Marietta City Schools, the Georgia Board of Nursing and the Southern Regional Education Board.
During the pandemic, Wellstar remained engaged with academic partners, serving as a corporate partner with its affiliated high schools. In the fall 2020 semester, more than 100 high school students participated in a virtual career shadowing day with the cardiovascular nursing team from Wellstar Kennestone Hospital. The students observed front-line clinicians during a simulated setting, virtual tour, and a reenactment of a patient's experience through a life-threatening cardiac event.
 "We look forward to identifying students who have a passion for health care, nurturing this interest, and equipping them with the skills they need to succeed in a nursing role," said Jill Case-Wirth, senior vice president and chief nurse executive at Wellstar Health System.
As the first students enrolled in the program begin to graduate in the upcoming years, there will be increasing engagement to allow those who have completed their CNA certification to become employed shortly after graduation from high school. An alignment of resources through the Georgia HOPE Scholarship, HOPE Career Scholarship, and WellStar's tuition assistance program is intended to provide participating students the opportunity to complete their college education with little or no tuition cost. "This is a real model for how schools, colleges and businesses can come together to forge clear pathways," said Stephen Pruitt, president of the Southern Regional Education Board.
Future workforce needs
The nursing ecosystem requires a highly engaged and well-prepared workforce to meet future workforce needs, while promoting diversity and inclusion. Over the next year, the health system will continue to develop programs that align its workforce strategy with diversity and inclusion efforts. Recently, the health system offered a CNA certification program to grow the skill sets of existing Wellstar team members interested in transitioning to this critical nursing support role. This model will support future initiatives aimed at creating other programs to support current team members who wish to pursue a nursing degree. In the future, the health system will offer such programs to the community, making it available to external candidates. Aligning workforce programs with community-based initiatives will further strengthen the pipeline, supporting diversity. Such a program can result in reduced health disparities through the improved health of the individual student and the communities they serve (Katz et al., 2016).
As Wellstar leaders look to the future, they will continue to seek innovative pathways and expansion into other disciplines. This framework provides the organization with a roadmap that can be further developed, enhanced and expanded. Implementing a mission-driven, multifaceted method to create diversity while addressing retention, curriculum alignment, financial resources and cultural competency is essential to the future of any innovative workforce strategy (Mittman & Sullivan, 2011). Wellstar's mission is "to enhance the health and well-being of every person we serve." The Wellstar Nursing Career Pathway aligns with the mission and vision of the health care system by serving both its community and team members, with the promise of improved care for the patients Wellstar serves.
References
Katz, J. R., Barbosa-Leiker, C., & Benavides-Vaello, S. (2016). Measuring the success of a pipeline program to increase nursing workforce diversity. Journal of Professional Nursing, 32(1), 6–14.
Mittman, I., & Sullivan, L. W. (2011). Forming state collaborations to diversify the nation's health workforce: The experience of the Sullivan alliance to transform the health professions. Journal of Genetic Counseling, 20(6), 547–555.
About the Authors
Natalie Jones, MSN, RN, NPD-BC, is executive director of workforce development at Wellstar Health System, Atlanta.
Jill Case-Wirth, MHA, RN, is senior vice president and chief nurse executive at Wellstar Health System, Atlanta.