Nursing Leadership COVID-19 Study
The American Organization for Nursing Leadership (AONL) partnered with Joslin Marketing to conduct a longitudinal study on the impact of COVID-19 on nursing leadership in key areas over time. The first survey, conducted in July 2020, followed the initial surge, while AONL fielded the second survey after the winter surge in February 2021.
Nearly 2,500 nurse leaders completed the newest survey with findings indicating a change in the primary challenges nurse leaders faced since last summer: access to PPE improved while mental health and staffing issues have worsened.
As stated by one nurse leader:
"We have seen nurses leaving the profession due to moral distress, burnout, and fatigue. I believe if we can address the root cause of this problem, we will retain more nurses and begin to stabilize the numbers in the workforce."
Respondent Profile

Heat map distribution of respondents' primary work zip codes
Survey respondents include nurse leaders at all levels across the continuum of care. The vast majority of respondents were either chief nursing officers or executives (17 percent) vice presidents, directors (34 percent), or managers (32 percent).
Fifty-two percent of respondents came from acute care hospitals, while 14 percent are from health system facilities and only four percent came from long-term care or post-acute care facilities. The respondents skewed to urban settings (51 percent) versus 29 percent suburban, and 20 percent rural.
Top Challenges During the Pandemic: Then and Now
Challenges in July 2020:
54% communicating and implementing changing policies
53% surge staffing, training, and reallocation
49% mental health and wellbeing of staff
Challenges in February 2021:
67% selected mental health and wellbeing of staff
65% surge staffing, training, and reallocation
44% communicating and implementing changing policies
31% staff retention, furloughs, layoffs
Of note, the percentage of nurse leaders who selected access to PPE dropped by 24% since July 2020.
---
The survey, conducted in late July 2020, studied the impact of the COVID-19 pandemic on nursing leadership. After conducting interviews with nurse leaders from across the country, AONL and Joslin Marketing launched an online survey to measure nurse leaders' perceptions of key concerns, primary challenges, lasting changes and preparedness for future pandemics or surges.
Key Findings
Nursing staff received additional training to treat COVID-19 patients.
Biggest challenges included communicating and implementing policy changes, surge staffing, staff wellbeing, and access to PPE.
Support from their organizations and teams exceeded the expectations of nurse leaders.
Nurse leaders shared hundreds of stories providing insight into the daily reality of nurses on the frontline of this pandemic.
Download Study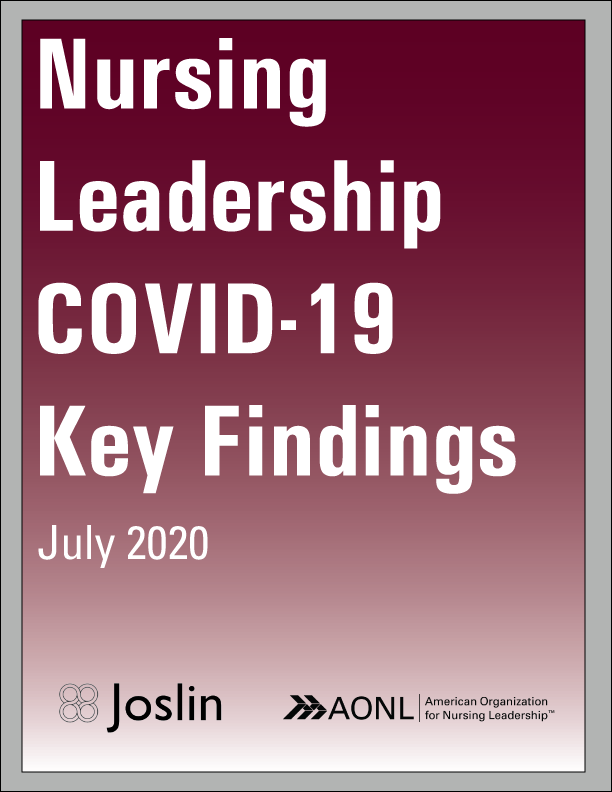 Download Study
Joslin Marketing originated as Kaleidoscope Advertising & Design in 1994 as a full-service marketing agency tailored to the consumer market. With the advent of the tech boom, we moved our consumer methodologies to meet the needs of the growing technology sector. Today, Joslin Marketing operates as a customer insights and strategy consulting firm with a specialization in health care.